Robin Keith, Afternoons 2-6PM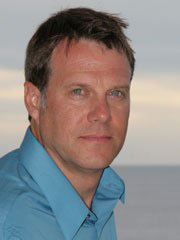 A radio veteran of over 30 years, Robin Keith joined Cherokee Broadcasting in 2015.
"I got my start in radio in 1983, nervously cueing up a record at the campus radio station of Biola University in southern California . Since then, I've been all over the radio dial: in California, upstate South Carolina and here in beautiful east Tennessee. I love interacting with listeners with giveaways, requests and just goofing off. I always want to encourage listeners to have a great day and make a difference in the community!"
Robin is married and has 2 daughters. They have a wienie dog named Frazier. Robin loves the Tennessee Vols, golf, playing the guitar and piano, reading, movies...and is constantly in search of the perfect hamburger! If you twist his arm he might do his Barney Fife impersonation.
Robin is also a professional videographer who has been the videographer of many weddings, corporate videos, commercials and television segments (see www.robinkeith.com).
Email Robin at radiorobinkeith@gmail.com